Filter by Category
Aging & Senior Care
Registration Unavailable
Alzheimer's Disease Support Group
with

Nov 16, 2017 at 3 pm
The Alzheimer's Support Group provides information and support to area residents who have loved ones coping with Alzheimer's disease or related dementias. For details, please contact Cheri Alexander, LSW at 921-6237.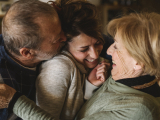 Registration Unavailable
Memory Loss: What You Need to Know
with

Nov 8, 2017 at 9 am
Part of Penobscot Shores' Enrichment Series, this half-day symposium offers an opportunity to learn the latest information on Alzheimer's and other forms of memory loss. In multiple presentations, experts in the field will focus on everything from prevention, diagnosis and treatment to community resources and caregiver support. The event will also include a Resource Area for attendees. Made possible by the generous support of Waldo County General Hospital, Waldo County YMCA, Alzheimer's Association –Maine Chapter, Spectrum Generations, Harbor Hill – A Genesis Center, MaineHealth Care at Home and Maine Medical Partners/Maine Medical Center. Free and open to adults age 50-plus. Includes complimentary breakfast and boxed lunch. Doors open at 8:00 a.m. for check-in, breakfast and Resource Area. Registration is required, please call 338-2332 by Monday, November 6.