Filter by Category
Prenatal Care & Childbirth
Registration Unavailable
Breastfeeding Support Group
with

Jan 29, 2018 at 10 am

, runs for 51 weeks
This group offers breastfeeding support and guidance to breastfeeding mothers. Our certified lactation consultants and certified lactation counselors will lead breastfeeding topics such as the early weeks, fussy babies, common problems and solutions, going back to work, nutrition and long term breastfeeding success.
The support group meets weekly on Mondays from 10:00 to 11:00 a.m. in the Women and Infants Healthcare Unit (WIHCU) lactation office at Waldo County General Hospital. For more information, please contact lactation services at Waldo County General Hospital at 338-2500 ext. 4109. Please call ahead if it falls on a holiday.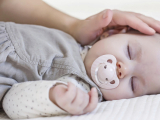 Registration Unavailable
Mother's Milk Support Group
with

Jan 30, 2018 at 12:30 pm

, runs for 52 weeks
A support group for breastfeeding families. The informal group provides interaction as well as individual assistance when needed. Women wanting more information about breastfeeding are also welcome. Facilitated by a lactation consultant from OB/GYN. Drop-in group, please call 921-8345 for more information.